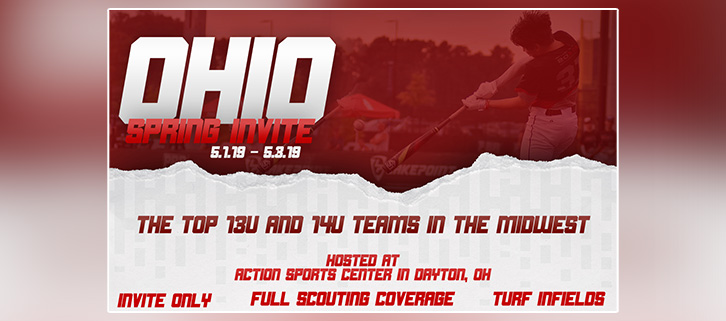 PBR Ohio will be hosting and scouting all games for the Round Robin at Action Sports Center in Dayton, OH. The PBR staff will be on hand to scout and provide social media coverage for each game. The event will feature complete social media coverage through our Twitter account, which is followed by hundreds of college baseball coaches from the Midwest and across the United States.
In addition, we provide post-event recap on the web site, including a scouting notebook and list of top performances from uncommitted players. All sites will have radar guns to capture pitcher velocities. Players will be selected from this tournament to participate in Ohio's most selective 14U summer showcases: The Future 50 and The Junior Future Games.
The Future 50 is an INVITE only event featuring 50 of the top rising freshman from across the state of Ohio. Players participate in a showcase style workout and game. Traditionally, this event is held at The Ohio State University.
The Junior Future Games is an INVITE only event feature 15 of the top rising freshman from across the state of Ohio. The event is held in Atlanta, Georgia, at the Lakepoint Sports Complex. Players participate in a showcase workout and play at least three games in a tournament format against teams from other PBR states.
WHO:
This event is an invite-only event geared towards teams with at the 13U (54/80) and 14U (60/90) age level.
If you are interested in participating, please fill out this form. Do not register without an invitation.
FORMAT:
Each team will have 3 games guarantee.
BENEFITS:
PBR Scouts on-site for all games
Full social media coverage
Post-content coverage of event results and players results
PBR Player profiles for all players attending the event
Scout Blogs and team recaps during all games
Baseballs will be provided for all games
LOCATION:
Action Sports Center
Dayton, Ohio
All fields with new turf infields